Important:
This document is applicable to NovoTouch BK series, including model: BK650i, BK750i, BK860i.
Each BK model has its own upgrade package. Please make sure you download the correct package for your model. Using a wrong package could make your NovoTouch unable to boot up.
Step-by-step instructions:
The upgrade package comes as a zip file. When you receive it, you need to unzip it first and then copy the file "DZ5680Upgrade.bin" onto the root directory of a USB disk. You should see the following file/folder structure on the USB disk.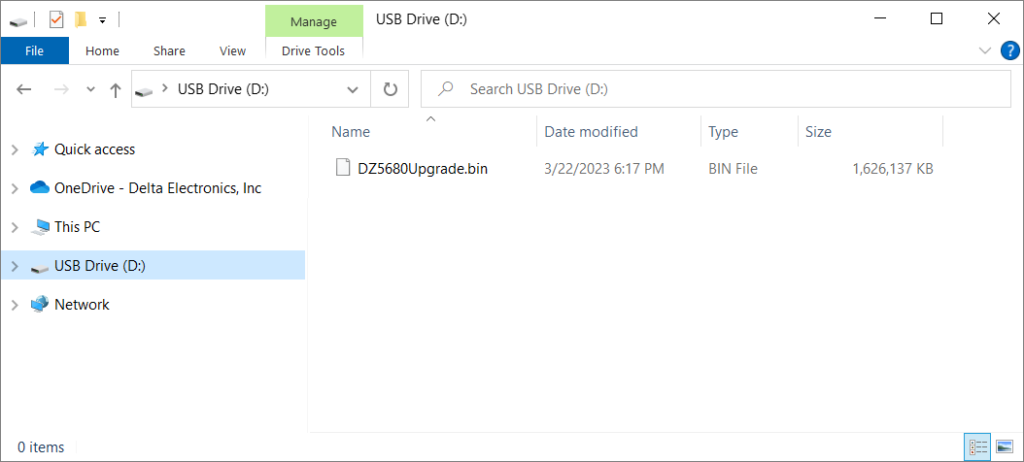 Power down NovoTouch panel.
Insert the USB disk into the USB2.0 port at the side panel of NovoTouch panel.
Press-and-hold button POWER until the LED flashes red and blue quickly, indicating the upgrade process is started. Please do NOT remove the USB disk during this process.
A progress bar is shown to display the completion percentage. Once it gets to 100%, the NovoTouch will restart automatically. During this first-time boot-up, it will take a bit longer to perform some additional post-processing.
Once it fully boots into Android home screen, the firmware upgrade is completed. Now you can unplug the USB disk.