(1) Make sure your computer is in the same network as the NovoConnect device.
(2) Please note the following network ports need to be open to establish a successful connection with the USB-connected In-Room device.
• 7450: UDP Broadcast. (Direction: Device → PC)
• 20005: TCP Bidirectional.
(3) In NovoConnect Software, you have two options to join a meeting.
• Select the desired NovoConnect device from "Nearby Devices", "History", or "Device Directory".
• Or, manually enter Meeting ID, IP address or Meeting Room.
Step1. Plug UC&C product(s) (e.g. USB webcam, USB Microphone, etc) into NovoConnect devices via USB port(s).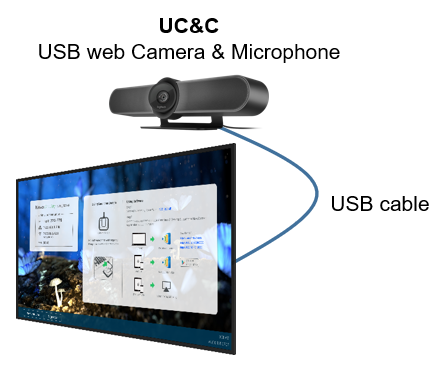 Step2. Launch NovoConnect software on Windows laptop or macBook, enter meeting room name/ IP/ meeting ID to screen share to the NovoConnect device.
Step3. Click BYOM icon to establish connection with your USB connected peripheral.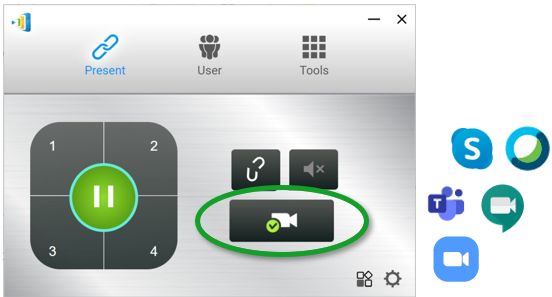 Step4. Select the In-Room device in your preferred video conference app.
Select the USB connected peripherals from Microsoft Teams
Before starting a meeting on teams
Click on your profile icon in the upper-right and select Settings
Select "Devices"
Navigate to your desired section: Speakers, Microphone of Camera
In the section select "in-room" device
After Starting the Meeting
Click the 'More actions' icon (three-dot menu) on the meeting toolbar.
The panel for Device Settings will appear on the right.
Go to 'Camera' ( or Speaker/ Microphone section) and select In-room Camera from the drop down menu.
Select the USB connected peripherals through Skype
Select your profile picture.
Go to > Settings > Audio or Video devices
Select the "In-room" microphone /speaker/ camera respectively.
Select USB connected peripherals through Cisco WebEx
Go to your profile picture and then choose Settings.
Click Audio or Video
Select the "In-room" microphone /speaker/ camera respectively.