NT LiveNote is a tool palette consisting of on-screen annotation and screen-sharing control, as shown in the following picture. You can launch this toolset in two ways.
When someone starts screen mirroring, NT LiveNote is launched automatically.
Alternatively, you can launch it manually via Launch Pad –> NT Tools.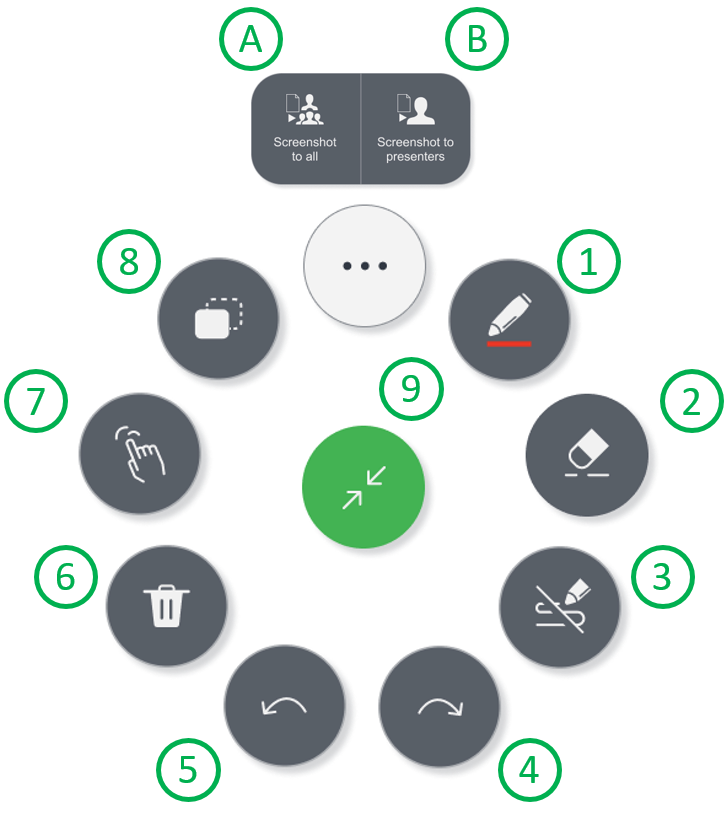 The following table has the description of each tool icon.
No.
Name
Description
1
Pen & Highlighter
1) Click to enable this tool
2) Long-press to select pen/highlighter, color, & size
2
Eraser
Click to enable Eraser
3
Show/hide annotation
Show or hide existing on-screen annotation
4
Redo
Re-do
5
Undo
Un-do
6
Remove
Remove all on-screen annotation
7
Touch back
Click to enable Touchback feature.
1) When a Windows/MacOS computer is mirrored onto the screen, Touchback allows users to control the computer via the NovoTouch.
2) This feature is applicable to Windows and MacOS computers only.
8
Session Control
Projection control: Add, Remove, Withdraw
Session control: Lock session, Terminate session, Show connection infomation.
9
Collapse
Click to collapse the menu palette
A
Snapshot to all participants
Send screen snapshot to all meeting participants (connected users)
B
Snapshot to presenters
Send screen snapshot to presenters
Tutorial Video