NovoStage is software designed for businesses or schools with conference rooms that feature a windows PC connected to a display or projector. The software allows you to create a virtual a meeting (or "NovoStage session") on the PC (or "host computer") where up to 4 other devices connected to the same network can share their screens. The host can then manage the shared screens and interact with the presenters. Remote participants on a different network can also join the meeting via video-conferencing software installed in the host computer.
Key Features
• Windows-based and enables to show multiple devices on the main display
• Maximum industry standard of security AES-256 bit encryption
• Supported 4K resolution
• Higher sound quality with Advanced Audio Coding
• Easily upgrade any Windows-based display into a wireless collaboration platform
• Allows you to share ideas by using existing VC applications from your device
• Compatible with USB LancherPlus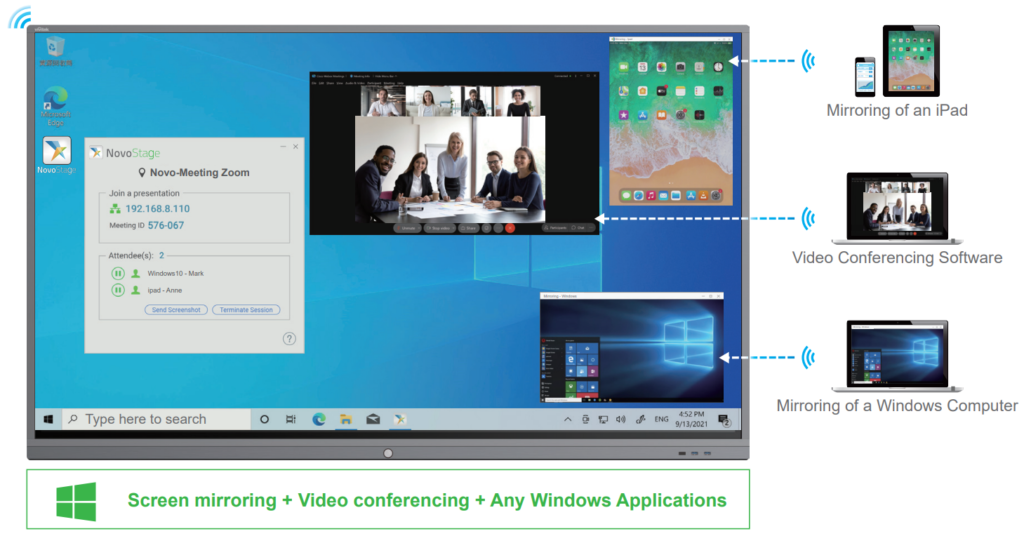 The following methods are available for devices to join a NovoStage session:
For PC And Mobile Device Users
Install the NovoConnect software on their devices.
NOTE 1: Contact your local Delta service center to download the NovoConnect software.
NOTE 2: Platforms supported by the NovoConnect software include Windows, macOS, ChromeOS, Ubuntu, iOS, and Android.
For iPhone, iPad, And Mac Users
Use the AirPlay screen mirroring technology native to your device.
NOTE: NovoStage supports up to 2 devices mirroring screens via AirPlay simultaneously.
For Users With A LauncherPlus Device
Plug a LauncherPlus to the USB port of your devices to join the session.
NOTE: LauncherPlus is a Novo-series product. Contact your local Delta service center for more information about LauncherPlus.