Floating Apps are a series of applications, each of which runs as a (re-sizeable) window instead of the typical full-screen most Android Apps do. As a result, you can run multiple Apps at the same time to enhance collaboration experience. For example, in the following picture, a floating App, NT Browser (web browser), is running along with the whiteboard App, Note.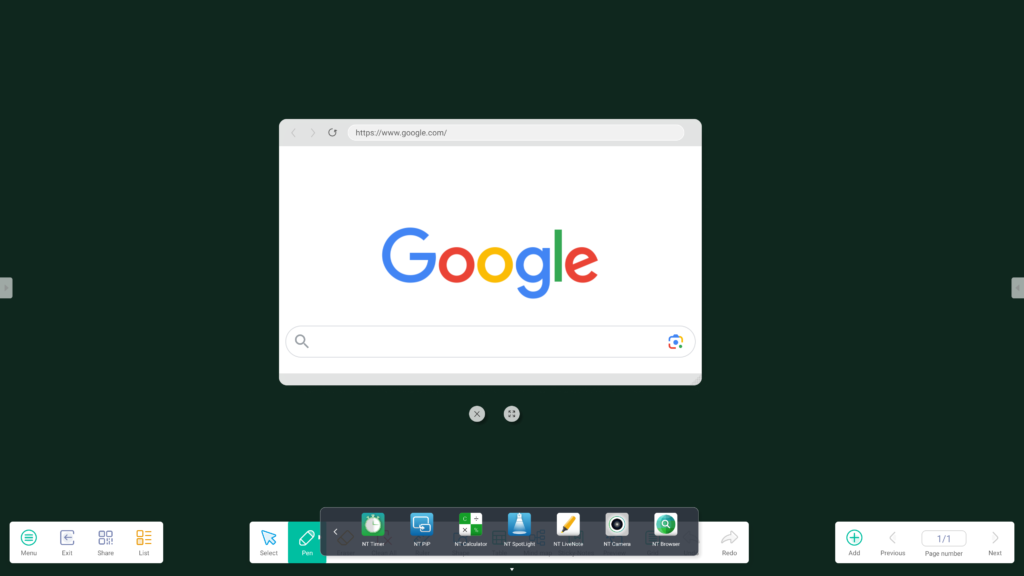 All Floating Apps share the same usage patterns.
You can relocate and/or resize the App window by dragging.
The "Close" and "Maximize" icons are accessible right below the App window.
The following table summarizes these Floating Apps.
Name
App Icon
Description
NT Browser
Web browser
NT Calculator
Basic calculator
NT Timer
NT Timer offers two main functionalities
1. Stopwatch
2. Countdown timer
NT Camera
Camera view (USB webcam)
NT PiP
Picture-in-picture App.
You can bring in video sources such as HMDI Inputs, USB-C, and VGA. Key features include
1. Select signal source
2. Resize App window
3. Relocate App window
4. Enable/disable Touchback
NT LiveNote
A tool palette consisting of on-screen annotation and screen-share control. It is overlaid on top of any Apps and therefore users can annotate anything on the screen. Please refer to Section 5.5 for details
NT Spotlight
Spotlight app (to draw users' attention)
NT Player
Video player supporting a variety of video formats, including mp4, mov, avi, etc.