We provide Novo Remote Manager, a tool to remote control all NovoConnect, NovoDisplay and NovoTouch products. Responsible on Windows (Windows 7 and above) and Mac OS (10.7 and above). IT can use this tool to monitor, upgrade, modify configuration remotely.
How to get Novo Remote Manager: Please contact with our local distributors.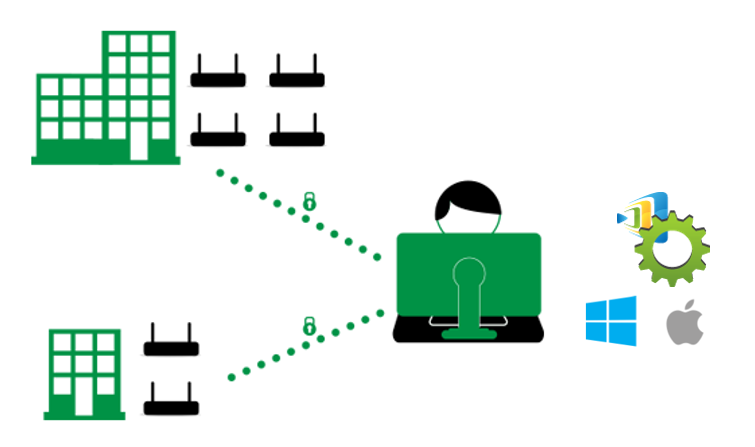 First of all, please make sure the Novo device is connected to the Internet as it is going to contact our upgrade server for upgrade information.
Update Remote Manager software
Launch Remote Manager software, make sure upgrade to the latest version.
Make sure your laptop or Macbook have connect with Internet. If the software is old version it will show New version button on the top right corner. Click New version to update the latest version.

Add a new device on your list
There is a device list on its main window. If the device is not within the list, it should be added into the list firstly. Click + Device on the top left corner > Enter device IP address and Description to add a new device.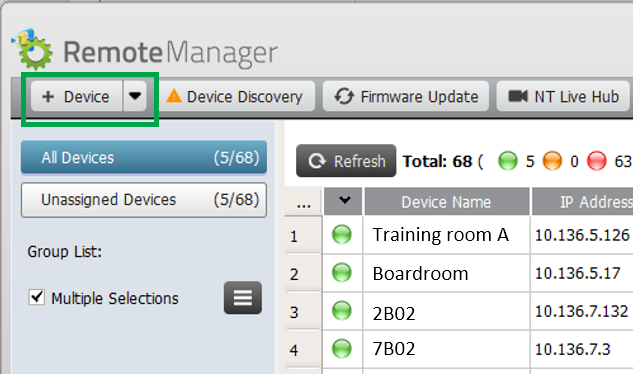 Upgrade all devices
Click Firmware Update to upgrade all online Novo device to the latest version. (Make sure all Novo device have to access to Internet.). Go to this article has the details.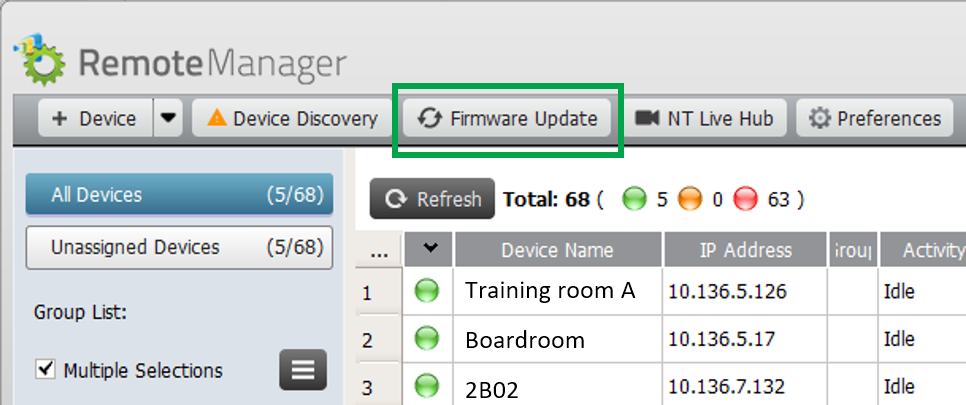 Modify device configuration
Choose the device you'd like to do modify the settings, and its status icon should be green which indicates it is online. Then click the Setting button on the top right corner.

Device Name: Go to Setting > General > Enter Device Name. The device name will display on the home screen of device and show on NovoConnect App.

Time Zone and Language: Go to Setting > Misc. > Display > to setup local Language and Time Zone.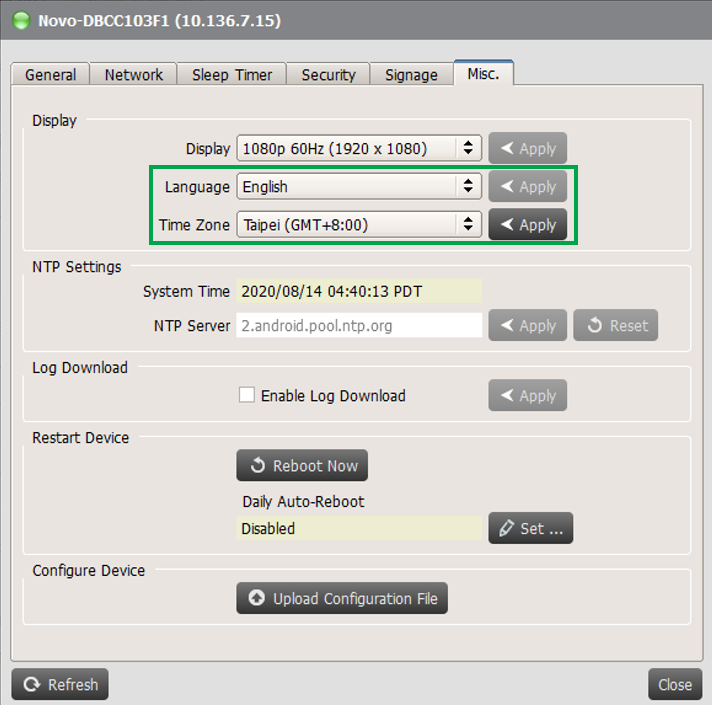 Sleep Timer: Go to Setting > Display > Sleep Timer to schedule device HDMI output signal or display to turn ON/ OFF.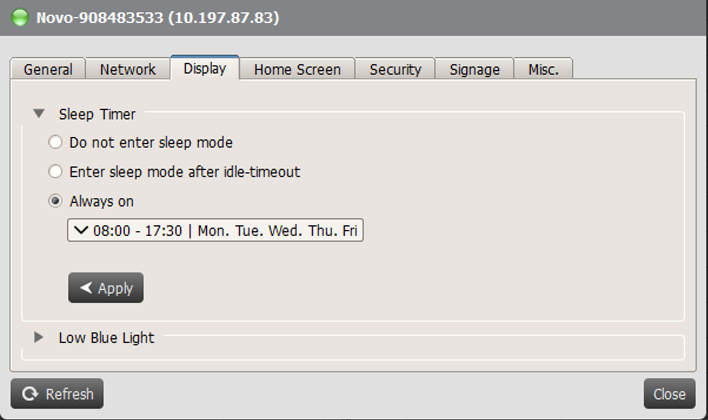 Low Blue Light: Go to Setting > Display > Low Blue Light to setup blue light level.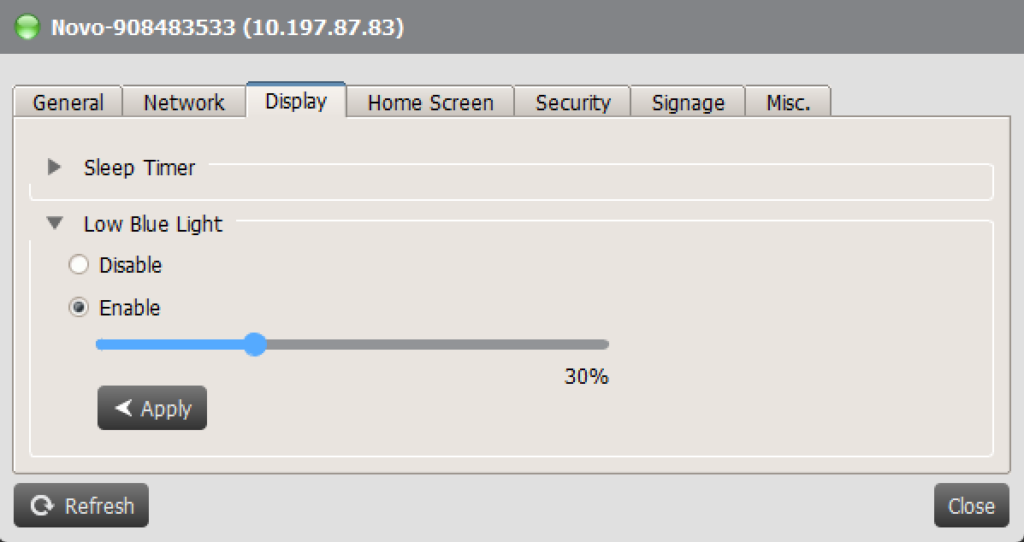 Home Screen Info: NovoConnect X500 and NovoDisplay support Home Screen Info setup, user can turn on or hide Meeting ID, Signage information and so on on Home Screen.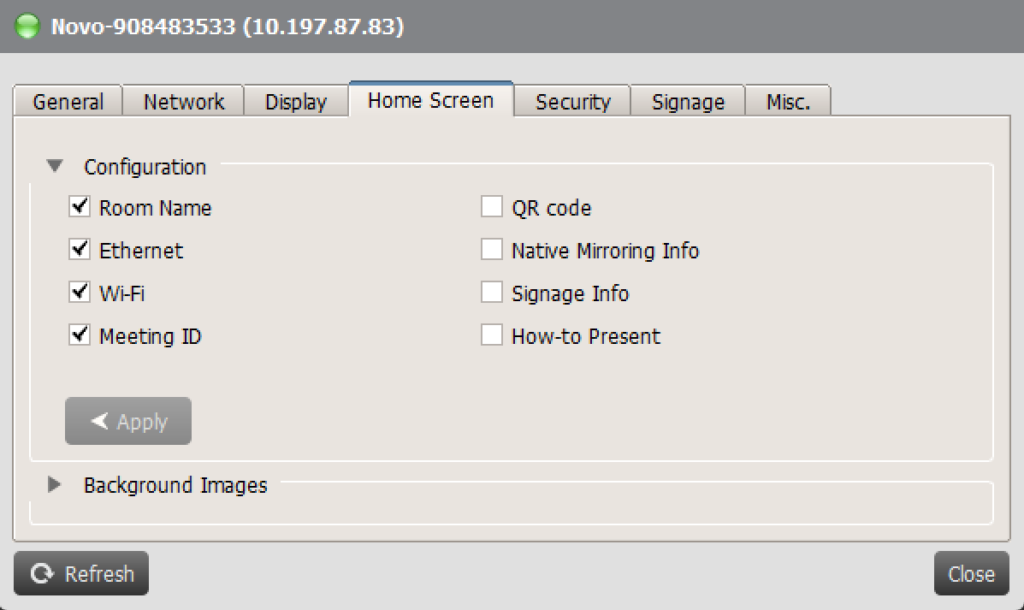 Modify Home Screen Picture: NovoConnect X500 and NovoDisplay can customize background picture, user can upload picture to change home screen background.
Picture format: PNG, JPG
Recommend Resolution: 3840 x 2160
Signage Settings: NovoConnect X500 and NovoDisplay support NovoDS digital signage feature, a easy-to-use network-based digital signage solution that is ideal for creating dynamic displays.
We provide DS Studio software for user to design, schedule and publish your playlist to your device. Go to http://novods.com > RESOURCES > Software to download DS Studio software. User can have an account with NovoDS.com to enjoy our cloud service for FREE trial for 3 months.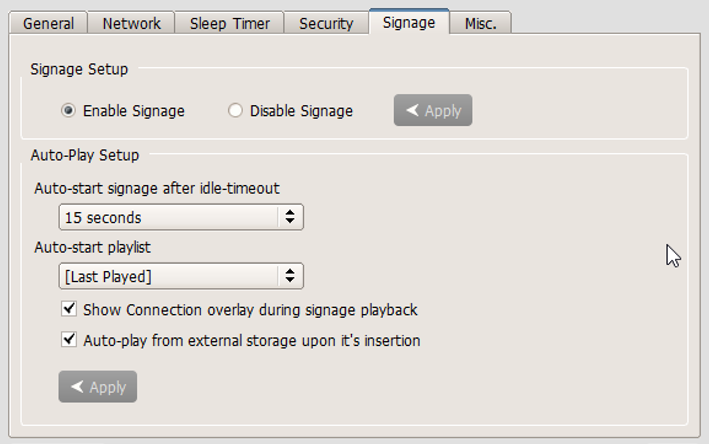 Security: IT can control to enable or disable AirPlay, AirPlay code, Google Cast, Miracast and software PIN code required. IT also can enable settings lock, a password protection.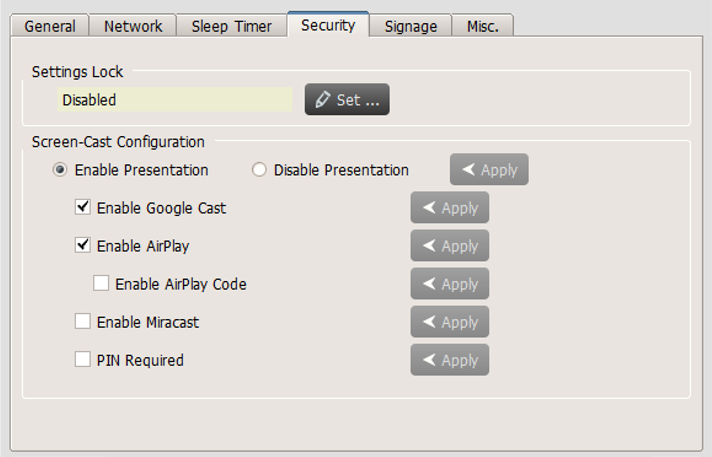 Go to Remote Manager user manual for more information.